Located in the heart of East Africa, Uganda straddles the equator and has a bi-modal rainfall pattern, which means that it has two rainy seasons per year. Combined with high altitudes and a year-round pleasant climate, Uganda is a great place to grow coffee. Uganda Coffee is produced by around 1.5 million smallholder farmers. While coffee farming is the main source of income for many of these families, the productivity of Uganda's coffee farms is among the lowest in the world.
Kyagalanyi Coffee Services, Genuine Origin's sister company, has been working with coffee producers for a decade, with help from UTZ and Rainforest Alliance, to provide these smallholder farmers the right tools to improve their yields. The company has developed a strong farmer support program which consists of capacity building through free household and group trainings. This is supported by a range of special projects on subjects ranging from gender, youth and climate change. Kyagalanyi uses a data driven evidence based approach to create cycles of continuous improvement. The UTZ/Rainforest Alliance membership has grown to 17,000 households and coffee yields and income of these families have increased by 35-45% in West Nile and 60-70% in Mt. Elgon.
As a result of its highly effective efforts on behalf of smallholders and the environment, Kyagalanyi Coffee won the 2018 Rainforest Alliance Sustainable Standard-Setter Award. This award recognizes companies who have demonstrated an exceptional commitment to sustainability, improving livelihoods, and conserving forests all around the world.
Farmer well-being is a priority for the company, explained Kyagalanyi Regional Sustainability Manager, Anneke Fermont. "The more we work in the communities, the more we understand the different social, economic, and environmental challenges that farmers face. Assisting communities and individual families to find solutions for these challenges helps to build a more sustainable coffee value chain that benefits everyone."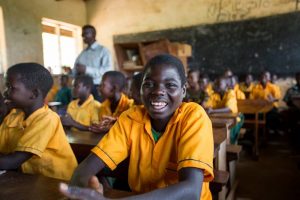 Child labor is a known problem in West Nile, and thanks to an initiative with international social justice organization Hivos, UTZ and others, more than 500 Ugandan children have returned to the classroom, and the number is growing every day. "Instead of hiding child labor, we much prefer to put problems on the table and introduce a continuous improvement approach so we can support a long-term solution" says Fermont.
"It's deeply rewarding to visit families that have tripled coffee production and built a permanent house; to meet children who are back in school; to learn from couples how the coffee harvest game we developed has taught them to make joint decisions; and to encounter coffee youth teams that are expanding their business due to more demand," Fermont said.
Kyagalanyi's efforts have been strengthened by the Volcafe Way program over the last two years. This  has introduced a business  approach to coffee farming and large model farms where farmers receive free training on the benefits of rejuvenating coffee in cycles, record keeping and understanding profits from coffee.
Check out our Uganda coffees from our sister company, Kyagalanyi.