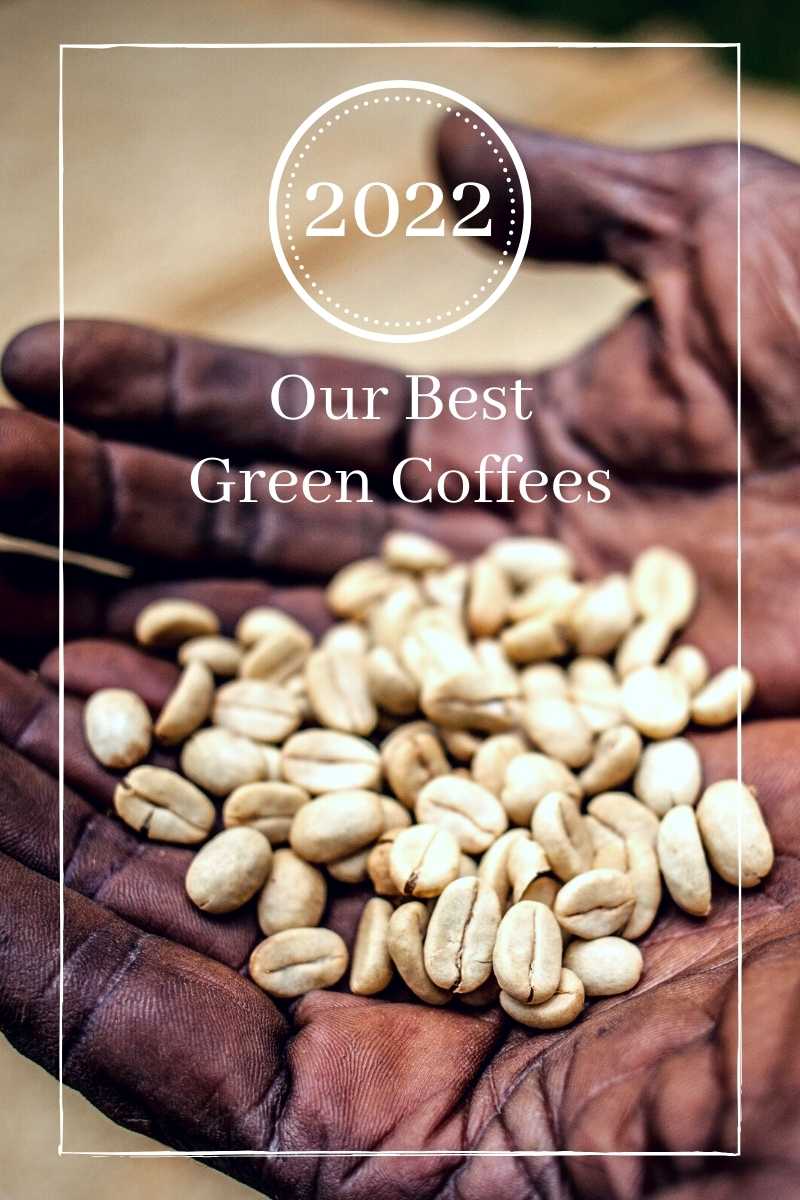 What were the best green coffee beans in 2022? As the end of an impressive year approaches, we rounded up some of our team's absolute favorite unroasted green coffee beans and roasted coffees from 2022. Genuine Origin is always sourcing new coffees with the help of our sister companies and partners at origin, bringing you the best green coffee beans every harvest for your roastery needs.
The Year's Best Unroasted Coffees
Colombia Huila El Mirador Tabi 2022
"I've really liked a lot of our Colombian offerings this year, but this one stood out. The chocolate and cherry notes were a delightful combination, along with a slight puckering mouthfeel from the acidity." Jay Vernaleken, East Coast Sales Manager
Huila is always a favorite region when it comes to Colombian green coffee. Sebastian Ceron and Miller Ome dedicate a section of their farm to cultivating the Tabi variety, developed by CENICAFE, Colombia's coffee research institute, as a highly disease-resistant varietal. Sebastian and Miller are part of the ASOBOMBO association, where 170 young producers come together to strengthen the land with improved agricultural practices.
Costa Rica Cordillera De Fuego 2022
Don Luis Campos founded his farm in 1984, and over the past ten years, he has constantly been innovating with different processing methods to improve green coffee quality. Among these are termico (heat fermentation) and anaerobic honey, both among the list of GO favorites this year. His farm is dedicated to high quality coffee production and sustainable production, and newly installed solar panels supply more than 50% of the energy used by his wet mill. Costa Rica green coffee sells at a premium, but the country's reputation for delivering high quality and innovative coffee at fair prices for the producers is well worth its value. Read more in our Costa Rica Green Coffee Origin Report.
"All of the Cordillera de Fuego coffees are amazing, but I liked the termico this year because it was very different from years past. This year had a lot of cherry and ripe plum notes and was really tart." Jay Vernaleken, East Coast Sales Manager
"The 2022 lots of Cordillera de Fuego were so different and unique, but the natural was my star. You might start noticing a trend in my preferences because this coffee gave me a lot of dried peach and plum, as well as honey and lots of berry. The Costa Rica Cordillera de Fuego coffees are a "can't miss," in my opinion." Jen Hurd, West Coast Sales Manager
"I liked how the combination of processing on this coffee contributed to the tasting notes. You get the funkiness from the anaerobic but also the mild acidity and balance you get from a honey process. I tasted a variety of stone fruits with a dash of cinnamon and overall brown sugar sweetness in the cup. This coffee also makes for an interesting espresso but requires a little finesse to get it just right. I preferred it as a pour-over." Cyndi Chirco, Gulf Coast Sales Manager
Honduras Reserva Guama Danta Organic 2022
"This has been my go-to drip coffee all year. The chocolatey sweetness combined with a subtle citrus note makes for a very balanced cup." Jay Vernaleken, East Coast Sales Manager
Honduras might be a small country, but it packs a punch as the world's sixth-largest Arabica coffee producer. With our sister company, Molinos de Honduras, we're kicking down the door of the specialty coffee market by building a reputation for high quality Honduras green coffee that comes with fair payments to the people who produce it – a big challenge in a country traditionally of intermediaries. After Molinos made the strategic decision to disintermediate in 2014, our sourcing partner went from sourcing 5% direct to 85% direct in just five years. Guama Danta is sourced from Comayagua, the most productive and most diverse of Honduras' 15 coffee-producing regions, with a long history of coffee farming.
Guatemala La Morena Cubulco FSHB 2022
"Quite possibly my favorite GO coffee this season. The dark chocolate notes with the bright citrus acidity just make for magic in the cup. I'm also super proud of the La Morena project and love sharing it with customers. This is a cup I could drink day-in and day-out and never get tired of. Even makes for a lovely single origin espresso." Cyndi Chirco, Gulf Coast Sales Manager
"Watching the La Morena project grow since 2017 has been wonderful. Gender equity at all parts of the supply chain is really important to me, and to see people embrace this coffee is awesome. I love that we've needed to bring in more La Morena every year, and I was delighted to see Cubulco added as a region in 2022. Cubulco has always been my favorite of our Guatemalas—it's like a chocolate orange, and this year was no exception in that cup!" Jen Hurd, West Coast Sales Manager
Guatemala green coffee from the La Morena program will probably always make our list of the best green coffee beans whenever they are available. We're just that proud of how far the female-led, female-empowering program has come. The microlot launched in 2016 as a 2,000 lbs lot from Huehuetenango and has since grown to a staggering 165,000 lbs, multi-container load that empowers women from Cubulco as well, expanding our impact on gender inequality in Guatemala green coffee farming even further.
Kenya Teremuka Coffee Estate AB 2022
"I usually have a major bias for AB Kenyas, which is one reason I started cupping all of our coffees blind. For two years in a row, Teremuka has been my top pick for our Kenyas. The 2022 AB was head and shoulders above the rest for me—tons of peach, plum, citrus, and dark chocolate for a complex and delightful experience." Jen Hurd, West Coast Sales Manager
The Teremuka Estate hails from the colonial era but transformed into a farmer and cooperative-led estate in 1978 with over 1,000 producing members. The vast area of 111 hectares produces over 800 tons of cherry annually. The deep red volcanic soil here is rich in organic matter, and the high altitude of 2,100masl holds an ideal climate for growing quality coffee. As a result, Kenya green coffee is unlike coffee from any other origin in the world, and the complex citric acidity and berry flavors of highland coffee are always outstanding on the cupping table.
Best Fresh-Roasted Coffee Beans in 2022
Ethiopia Guji Odo Shakiso G3 Natural 2021 – Luce Coffee Roasters
"To me, this coffee was the perfect combination of fruity notes and floral notes. It pops with a tart hibiscus acidity, beautiful peach notes, and delicate jasmine notes. I loved it made with my Hario V60 pour-over, brewed at a 1:17 brew ratio." Cyndi Chirco, Gulf Coast Sales Manager
Papua New Guinea Barioda Estate – City of Saints
"This washed coffee has a nice smooth body and was sweet and savory all at once. Coffees that carry both sweet and spice or savory notes really appeal to me. I also enjoyed the body of this coffee. I tasted green tea, stone fruit, and creamy vanilla. Overall, it was a well-balanced cup." Cyndi Chirco, Gulf Coast Sales Manager
Colombia Juan Felipe Aristizabal 48hr Fermentation – Relevant Coffee
"This was given to me at the Specialty Coffee Expo in Boston in April. Big notes of chocolate and cherry, sensing a pattern here?" Jay Vernaleken, East Coast Sales Manager
Costa Rica Tarrazú San Diego Honey ­– SlackTide Coffee Roasters
"This is one of the coffees I look forward to every year. Stone fruit and honey are front and center of this coffee. Their eye-catching bag design complements the beans inside." Jay Vernaleken, East Coast Sales Manager
Ethiopia Worka Sakaro Anaerobic Natural – Valor Coffee
"Hands down, this was my favorite coffee for 2022. It was super juicy, fermenty, and boozy with candy-like sweetness. The complexity of this coffee unfolded layer by layer as I drank each cup down to room temperature. It was fruity yet a little weird. Using my trusty V60, I found I really enjoyed this coffee at a 1:16 brew ratio." Cyndi Chirco, Gulf Coast Sales Manager
Costa Rica Cerra Dragon Honey Gesha – Push x Pull
"I knew I was in love as soon as I had this on the cupping table, and the team at Push x Pull are masters with honeys and naturals. With tropical fruit, grape, honey sweetness, and floral notes, it was the perfect coffee to drink while I was sitting on the beach. (Jealous?)" Jen Hurd, West Coast Sales Manager
Kenya Gikanda FCS Gichathaini Factory AA 2022 – Cleo Roasting
"This coffee surprised me, as normally Kenyas are not my favorites. I really enjoyed the bright acidity, the soft floral notes, and the dark chocolaty sweetness. A nice clean cup." Cyndi Chirco, Gulf Coast Sales Manager
Colombia Finca Los Alpes Natural Carbonic Fermentation – Hold Fast Coffee Co
"When I had this on my cupping table (read: kitchen counter), one of my tasting notes was "love." Bringing home a bag from Hold Fast totally underscored that. I loved this coffee—balanced acidity and sweetness featuring stone fruit, hibiscus, berry, and a lovely mouthfeel." Jen Hurd, West Coast Sales Manager
Happy holidays from all of us at Genuine Origin! We're looking forward to another outstanding year with some exciting new lots from the recent harvests. If the above reviews of our best green coffee beans inspired some new ideas for your upcoming coffee menu, head to Genuine Origin's online portfolio to buy unroasted coffee before this year's favorites run out. You can also check out our year-end sale for great coffee deals this month. Plan ahead for 2023 and stock up on our best-selling roastery essentials to keep your roastery consistently stocked year-round with the best green coffee we can bring you.